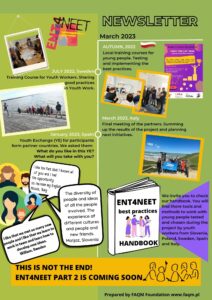 /Access to the report by clicking on the picture above/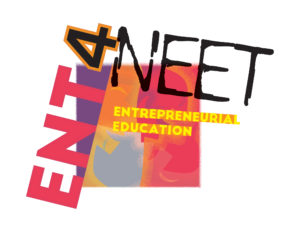 In April 2021, the Erasmus+ project "Ent4NEET – Entrepreneurial Education for NEET" has been launched in partnership with  Let's Keep Learning OLNUS Association (Italy), Aidejoven Association (Spain), Drustvo za izobrazevanje in socialni razvoj (Slovenia), Fundacja proFesjonalni Aktywni Qlturalni Mlodzi (Poland), FOXPOPULI (Sweden).
The 2 years project aims to exchange good practices between the five partner organizations on Entrepreneurship Education, conceived as a set of transversal skills useful for better facing the world of work by young people, in particular those who do not study and do not work, the so-called NEETs and also exchange good practices among youth organisations and aimed at youth workers and trainers who are involved in developing the skills of NEETs, namely young people aged between 16 and 29 who is unemployed and not receiving an education or vocational training.
This project was designed to widen and enhance the skills of youth workers and trainers by putting into practice effective ways to improve basic and transversal skills of specific groups of learners, NEETs.
On overall, the project will involve 20 youth workers and 50 young people aged 16-29 yo in training courses, workshops, study visits within companies both locally and abroad (in Sweden and Spain).
"Ent4NEET – Entrepreneurial Education for NEET" is a project co-financed by the Erasmus+ Programme of the European Union, managed by the Italian Erasmus+ National Agency active in the YOUTH filed.
The European Commission recently adopted the 2030 Agenda for entrepreneurship education with the aim of providing EU citizens with transversal skills in order to improve their employability potential, competitiveness and growth. Among these skills, teamwork, creative thinking, problem solving, adaptability, flexibility, proactivity, in plan words: "entrepreneurship", one of the eight key skills identified at the European level as key for the future, among the most requested in the labour market.
The information about the project can be found in the leaflet:
and on the project website www.ent4neet.associazionelkl.it and oalso on the social media pages (Facebook: @Ent4Neet, Instagram).